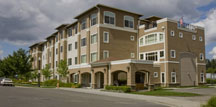 Moore Financial Services working with real estate professionals can assist property owners utilize a time-tested financial strategy - the Sale/Leaseback - to unlock (Monetize) the value of an otherwise dormant asset.
Is owning your real estate strategically important to your operations?
Certainly you need the use of the property, but do you need to own it?
By removing the Real Estate Asset and the Medical A/R from the balance sheet it may discourage a frivolous medical malpractice lawsuit.
Separating ownership from management is a proven method for many industries including the Hospitality market, as well as, others where separate ownership and management entities are the norm.
Asset Monetization is a way of getting more cash on the balance sheet and reducing the debt-to-capital ratios that are crucial to rating agencies. Monetization goes right to the balance sheet and improves days cash on hand...there are very few facilities that would not benefit from increasing this reserve. Monetization lets the organization get back to the core mission.
Many property owners in the Senior Housing and Healthcare markets have successfully used a Sale/Leaseback to convert the value of their real estate into cash. This strategy leverages equity, maximizes efficiency, and permits taking advantage of growth opportunities when they arise.
Sale proceeds can be used to acquire additional operations, stabilize costs, or revitalize existing properties, retire existing debt to increase revenue production; there are no restrictions on the use of the funds.